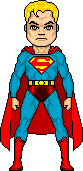 Kull-Ex was son of Kryptonian inventor who was about to design a new kind of vehicle on Krypton, however the blue print was lost and shortly thereafter, Superman's father Jor-El created a similar device by pure coincidence, and the vehicles (dubbed "The Jor-El") became popular among the people of Krypton. Kull-Ex's father was furious and believed that Jor-El had stolen the design for his personal gain.
Ad blocker interference detected!
Wikia is a free-to-use site that makes money from advertising. We have a modified experience for viewers using ad blockers

Wikia is not accessible if you've made further modifications. Remove the custom ad blocker rule(s) and the page will load as expected.