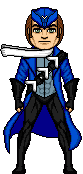 Digger Harkness was a master of boomerangs which he learned how to use in the Outback. When a mascot was needed for a boomerang company, Harkness was hired, but used the costume and boomerangs to commit crimes. Had many trick boomerangs. During the Identity Crisis limited series, he was sent to murder Jack Drake (father of Tim Drake, the third Robin). But Drake retaliated in self-defense, and the two men simultaneously killed each other. Harkness has a son, Owen Mercer, who took up his father's title and became a hero after a brief stint with the Rogues. Harkness was resurrected following the events of the Blackest Night.
Other Versions
Ad blocker interference detected!
Wikia is a free-to-use site that makes money from advertising. We have a modified experience for viewers using ad blockers

Wikia is not accessible if you've made further modifications. Remove the custom ad blocker rule(s) and the page will load as expected.