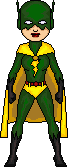 Real Name Helen Jordan
Alignment Good
Gender Female
Hair Brown
Citizenship American
First appearance Dc Comics present #40 (?)
History
The wife of the first Air Wave. Only put on the Air Wave costume once. Helen donned the Air Wave costume and caught the man responsible for her husbands, Larry Jordan the first Air Wave, death.
---
Ad blocker interference detected!
Wikia is a free-to-use site that makes money from advertising. We have a modified experience for viewers using ad blockers

Wikia is not accessible if you've made further modifications. Remove the custom ad blocker rule(s) and the page will load as expected.